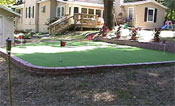 Get a professional synthetic putting green for your home or business. These are the most affordable synthetic greens in the industry and they are designed for self-installation. Installation is available in and around the Evansville, Indiana area. Here are just a few of the advantages:
No maintenance.
Easy to install.
Affordable alternative to natural green.
Weather resistant. Golf all year long!
Increase the value of your home.